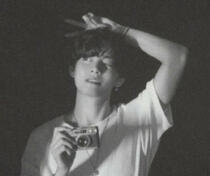 miyeonlarity (fer)
she / her | infp-t | 21 | bisexual | acuario | méxico
yay! artes, café, cocinar, miyeon, taehyung, junseo, menta con chocolate.
nay! insectos, lugares con mucha gente, discusiones.
▷ Treading Water - The Vamps
BYF! escribo aus/fics, soy shipper NO delulu, a veces doy mg/rt a fanarts de ships (algunos nsfw), hablo MUCHO de mi vida diaria, ults=prioridades, 6IDLE, soy mayormente gg stan (cualquier gg), multi, khh/kr&b stan, votos/stream silencioso, generalizo en femenino (pero respeto pronombres).
DFI! basic dfi, akgae/solo stan, anti de alguno de los artistas que staneo, onlys tóxicas, stan de empresas.
defiendo a mis ídolos sin necesidad de insultar a otros artistas y eso no me hace "cupcake" o cualquier mierda así, sólo es respeto so stfu.

MIYEONLARITY'S
♡ LOVE ZONE ♡
how i met your mother, gilmore girls, grey's anatomy, teen wolf, gossip girl, suits, gravity falls, star vs. las fuerzas del mal, miraculous, operation proposal, a love so beautiful (korean), business proposal, the king: eternal monarch, squid game, our beloved summer, nanatsu no taizai.
ULTS!방탄소년단 [bts] taehyung, yoongi, jungkook
(여자)아이들 [(g)i-dle] miyeon, shuhua, yuqi.
위아이 [wei] junseo, yohan, donghan.
the vamps bradley.
big time rush logan.
SUPPORT!
txt soobin, yeonjun.
dreamcatcher minji, yoohyeon.dpr, iu, bibi, fall out boy, nive, rolling quartz, nhc, mother mother, melanie martinez, itzy, red velvet, twice, stayc, aurora, exo, daniel me estás matando, jacinto, dylan o'brien, choi wooshik.